EDITO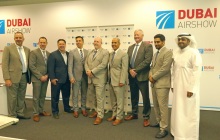 Academy training first 50 female cadets enrolled in Saudi Arabia
CAE signs 15-year training centre operations agreement for Saudi National Company of Aviation's OxfordSaudia academy
Academy training first 50 female cadets enrolled in Saudi Arabia
CAE and the Saudi National Company of Aviation (SNCA) signed an exclusive 15-year training centre operations services agreement on Monday at the Dubai Airshow 2019.
The agreement includes the provision of one Airbus A320 CAE 7000XR full-flight simulator (FFS) and one Airbus A320 CAE 600XR flight training device (FTD). This agreement follows the development of the SNCA's flight academy in agreement with CAE in 2017.
SNCA and CAE introduced a CAE authorised training centre located in Dammam, Kingdom of Saudi Arabia where expertise and guidance was provided to establish SNCA's cadet training program. A pilot license curriculum was developed, training of staff and instructors was conducted, as well as a provision for safety and quality control systems.
In this new agreement, CAE will now provide training centre operations services to SNCA's new training centre – OxfordSaudia, a CAE Authorised Training Centre – also located in Dammam.
"As we move along this journey, we are ready now to bring our pilot training capabilities to the next level with CAE, the world-leader in commercial aviation pilot training," said Captain Larry Wade, Chief Executive Officer, OxfordSaudia.
The center currently has 700 hundred students enrolled which include 50 female cadets from Saudi Arabia.
"We have had over 1000 female applicants from all over Saudi Arabia and the region and have put them through rigorous testing," Captain Wade said. "We have selected the best of the best and have taken them through the initial program, now they are ready for flight training," he added.
"SNCA has poured a lot of professionalism and passion into this new endeavor," said Nick Leontidis, CAE's Group President, Civil Aviation Training Solutions. " We salute SNCA for enrolling 50 female cadets to its OxfordSaudia flight academy. CAE is strongly committed to increasing female representation in the commercial pilot profession."
SNCA is acquiring an Airbus A320 CAE 600XR flight training device (FTD) and an Airbus A320 CAE 7000XR Series full-flight simulator (FFS) equipped with the innovative CAE Tropos™ 6000XR visual system. The FTD and FFS will be delivered at SNCA's OxfordSaudia training facility in the second half of 2020.